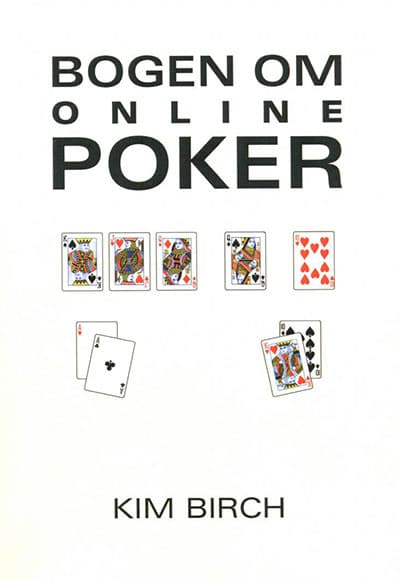 Title: The Book about Online Poker
By: Kim Birch
Language: Danish
Year: 2005
Pages: 124
Publisher: Rosenkilde
ISBN: 87-91303-40-0
THE BOOK ABOUT ONLINE POKER
If you want to master online poker and avoid the many costly mistakes that beginners often make, then this is the book for you.
Online poker is growing rapidly and has been a major contributor to the poker fever that is raging in both Europe and the United States. Not least because of the fact that on the internet there are always people ready to play – for fun, for money or both.
FROM FISH TO SHARK
The book's audience is people interested in playing Texas Hold'em No Limit poker at more than just beginner level and who do not have that much experience with this.
The book is focused on playing online poker and minimal time is spent on topics related to live poker.
There is also not much focus on cash games and poker variants that have nothing to do with no limit poker. What you get in return is a book that covers everything that has to do with online poker.
ONLINE POKER TOURNAMENTS AND SIT AND GO!
The Book about Online Poker covers all the topics of online poker tournaments and sit and go in particular. If these topics interest you, then I highly recommend reading the book as it will give you a very solid foundation for playing poker for real money.
REVIEWS OF THE BOOK ABOUT ONLINE POKER
If you are not sure whether the book is for you, then here are a few reviews of the book. Keep in mind, though, that the book is not out in a 2020 version yet…
"The book is for beginners – it says so in the preface! I think it is easy to read and quick to read, so you can get started on trying out the different strategies. I think it keeps its promise!"
"Brilliant! Lots of strategies, tips and tricks for online poker. If you are interested in poker and in particular online poker, then you should buy the book about online poker – it is definitely worth the cost!!"
"Finally, a book that goes beyond just explaining the rules. The book contains both strategy and explanation of various situations, and how to cope with these, which for my own part sometimes cost me some expensive lessons! 5 stars out of 5!"
If you are interested in "The Book About Online Poker", then support your local bookstore instead of buying it online at the big companies like Amazon.
As part of my job as the editor at the largest casino community BETO.com, you'll be able to read my detailed poker articles for free on the website. BETO is strictly focused on helping players like you, and I'm sure you'll find exciting poker knowledge.
I recommend visiting my updated poker guide to learn more about the card game. The poker column will be a continuation of the column from my time at Tipsbladet.
Good luck at the online poker tables!
© KIM BIRCH | All rights reserved 2023