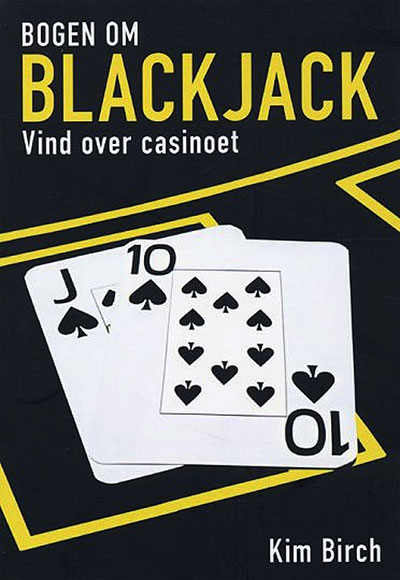 Title: The Book about Blackjack
By: Kim Birch
Language: Danish
Date: 23-03-2006
Pages: 156
Weight: 332 g
Depth: 15 mm
Width: 160 mm
Height: 235 mm
Publisher: Rosenkilde
ISBN: 87-91303-24-9
THE BOOK ABOUT BLACKJACK
In the Book about Blackjack, I give a thorough review of the popular card game. You learn to understand the basic rules and techniques and get an overview of how and when you make your bets at the blackjack table and statistically increase your chances of beating the casino.
REVIEW OF THE BOOK ABOUT BLACKJACK
"I have read a lot of Kim Birch's articles in Tipsbladet and have also read his book about poker. Personally, I love blackjack but have so far only played online and hunted for a few bonuses but must admit the book makes me want to try my luck at the casino in Aarhus… My favorite section is of course the one about counting cards – All in all a good book!"
"After reading a few general books about gambling where the blackjack rules are only briefly mentioned, it was refreshing to be able to read about how to count cards etc. in blackjack. Good Danish book about blackjack."
BLACKJACK – ADVANCED TOPICS
The book also covers the more advanced topics like card counting and blackjack as it is played at tournaments, giving you all the tools, you need to play blackjack at a professional level.
The book is unfortunately not published in an updated version yet. However, you can still take advantage of these blackjack strategies in 2022 at the blackjack tables.
I can also announce that my in-depth articles covering advanced blackjack have already gone live on the Danish casino community BETO.com. I will be responsible for the detailed blackjack section, collaborating with probably Europe's best blackjack player Astrid Eriksson.
If you do not have my blackjack book, you can read these blackjack articles for free and become an expert in the card game yourself.
May the cards be with you in your blackjack games.
© KIM BIRCH | All rights reserved 2023