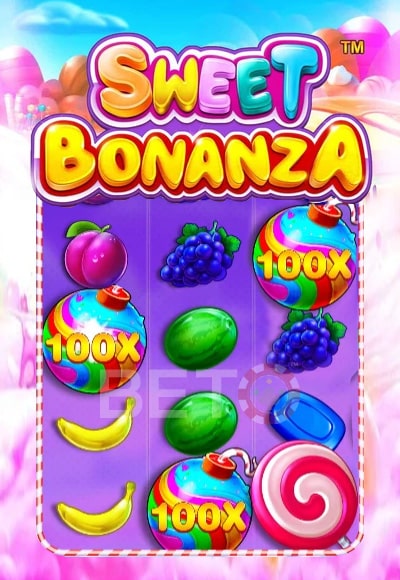 Slot: Sweet Bonanza
Release: 27.06.2019
Max Win: X21175
RTP%: 96.48
Volatility: High
Reels: 6
Rows: 5
Sweet Bonanza – Slot Guide and Bonuses for 2023
I just picked up a game of Sweet Bonanza after having some free time on my calendar. I am completely hooked on this fantastic and fun casino game!
The slot machine is still a HIT in 2023!
Slot machines have taken over the main focus of many of my readers and the online gambling communities. Therefore, I feel obliged to write articles about these all-too-fun slot machines, which still live up to their reputation as "one-armed thieves".
At first glance, you can see that this is no ordinary slot machine. There are six reels instead of five. No regular paylines or wild symbols give players a new and exciting gaming experience.
Sweet Bonanza is full of creative and innovative features that make the game fun and challenging. One of my favorite features is the Sweet-Tumble feature, where the symbols fall like raindrops, and there are chances of you winning several wins in a row. It gives an incredible feeling of excitement and adrenaline.
Another cool feature is Ante Bet, where you can bet on your luck before playing. It gives the game an extra dimension of excitement and intensity. I'm also impressed by the Sweet Bonanza graphics and cool sound effects. The game is beautiful and full of details that make the game the cutest slot machine and even more entertaining.
Sweet Bonanza is an incredibly entertaining and exciting online slot game that attracts players looking for something new and different. I can only recommend this game to anyone who loves excitement and fun and is looking for a unique and innovative gaming experience!
Sweet Bonanza by Pragmatic Play has changed the casino industry
At first glance, I was impressed by the bonus round in the game when I tried Sweet Bonanza when it launched a few years ago (June 2019).
The gameplay with the matching symbols and the then-unique free spins round was based on the popular match-3 games from mobile.
The game stands out from the usual casino slot machines in that it has six reels instead of five, and there are no regular win lines or wild symbols. When Sweet Bonanza launched in 2019, it was a completely new and exciting concept where the game developers had thought outside the box to create a unique gaming experience.
Even here in 2023, the Sweet Bonanza slot machine retains its charm. It is still one of the most popular online casino games available worldwide.
Gaming with matching symbols and sweets
The game's design is reminiscent of a popular game app (candy crush), which has attracted millions of players in Denmark and around the world. The tumbling feature, one of the game's noteworthy features, has even inspired other game developers, showing how cutting-edge Sweet Bonanza is.
The Tumble feature is amusing and exciting and allows players to win multiple wins in a row. Colorful sugar bombs and delicious fruits as different symbols make your heart beat faster when you press the spin button.
As I said, I was also excited about the Ante Bet feature during my updated review of the Sweet Bonanza slot, where you can bet on your luck before you start playing. This adds an extra dimension of excitement and challenge to the game.
Sweet Bonanza is an incredibly entertaining game, and I highly recommend it to anyone looking for something new and different. The game is packed with innovations and modern features. Sweet Bonanza is an excellent example of what game developers can achieve when they think creatively and innovatively.
In addition, you are also lucky enough that most online casinos offer bonus offers and welcome bonuses specifically for Sweet Bonanza due to the game's popularity.
Play Sweet Bonanza Slots Free
Do you need tips and tricks to be successful in Sweet Bonanza? Not necessarily, because the game from Pragmatic Play is based on the essential elements known from the classic slot machines.
But it can be hard to tell at first glance when you play Sweet Bonanza for free. This is due to the innovative set of rules in Sweet Bonanza, which in many respects differ from the classic game rules you know from the original slot machines.
Special features of the Sweet Bonanza casino game
There are no paylines in this game. It doesn't really matter where the symbols land on the Sweet Bonanza reels, as the only thing that counts is the number of winning symbols.
It also means that no specific direction determines the payout of winnings as long as you have eight matching symbols.
Sweet Bonanza Scatter Symbols
It also doesn't matter where these scatter icons land on the reels when you play Sweet Bonanza. When four or more scatters in Sweet Bonanza appear on the reels, the player gets 10 free spins.
During these free spins, three scatter symbols are enough to trigger additional free spins. All this already sounds very good, but it gets even better with multiplier symbols.
Sweet Bonanza Multiplier Symbols
These appear in the standard game and the free spins bonus round. They boost the chance of big wins. For example, the win, if there is one, is multiplied by a factor of 100 on the new symbols.
If several multipliers appear simultaneously, the already potential win is multiplied by other factors.
Sweet Bonanza Tumble
This feature marks the big difference in Sweet Bonanza whether you play the free demo version or for real money. When the feature is activated, Sweet Bonanza removes the symbols that lead to a win from the game, the subsequent new symbols fall down, and new ones roll from above.
This procedure repeats until there are no more winning combinations.
Sweet Bonanza Ante Bet
Here, even before the game, the player can intervene in the events of Sweet Bonanza online. How significant should the probability be for a bonus round feature to occur?
You decide this yourself when you play Sweet Bonanza for free, or you can buy a feature and hope it leads to the desired success.
Play Sweet Bonanza for free without registration
Pragmatic Play is best known for its innovative approach to online slots. With Sweet Bonanza, the brilliant development team has again created something exceptional. While many casino games rely solely on luck, Sweet Bonanza allows players to take their destiny into their own hands.
Features provide free spins. Usually, these occur rarely, and sometimes you must wait for many rounds to trigger them.
But with the Sweet Bonanza game, you can shorten the waiting time by buying access to this slot machine feature. This increases the chance of a big win significantly.
Suppose the cost of buying access to the bonus round needs to be lowered. In that case, you can choose the second method, where your chances of winning in standard gameplay are improved but also cost you a little extra per spin.
With a small bet, the player at Sweet Bonanza online can double the chance of a feature occurring in the next round. This also means that the waiting time for big wins and the colorful effects is reduced by half, even when playing Sweet Bonanza for free without registration.
Sweet Bonanza deposit plus bonus
By playing for free, you can safely test how these functions work. This allows the player to develop a strategy in addition to main symbols, reels, and paylines.
Do you want to take risks or play more conservatively and cautiously? With Sweet Bonanza, the player is actually in control of the game. Sweet Bonanza's freedoms make the game one of the most exciting and beautiful in the large selection of online casinos.
Suppose you are a new casino player considering playing for real money. In that case, I recommend that you play Sweet Bonanza for free first so that you know what to expect from the slot machine before you take advantage of a Sweet Bonanza casino bonus or welcome offer with free spins for the slot machine.
Play Sweet Bonanza online for real money
Free games without registration are perfect when looking for some quick entertainment. But what do you do when you discover that you are good at playing Sweet Bonanza and have a good feel for the probabilities?
You can predict winning combinations surprisingly often and have already learned the rules. Especially during Free Spins, the winnings do not stop. 
It may be time to try the next step.
If you need help deciding which online casino is right for you. Almost all approved online casinos offer Pragmatic Play's classic Sweet Bonanza. In that case, comparing some of the verified casino sites is recommended.
Free spins without deposit as a bonus are an excellent incentive to try Sweet Bonanza with real stakes and, of course, with real winnings. The game you assumed you had already learned suddenly feels different and new.
This is due to the excitement, which also occurs when playing Sweet Bonanza for free without registration but is even more enhanced when playing with real money.
What you do with the winnings from the first free rounds is up to you. Do you want to continue playing Sweet Bonanza and ride the wave of luck or try another game?
Additional information about Sweet Bonanza
If you take a look at my casino reviews on Beto.com, then there is an excellent opportunity to find the absolute best casino campaigns that suit your budget and playing style.
Slot machines contribute to the central part of the casinos' income online, so you can always find exclusive bonuses and more on BETO™ and thus play Sweet Bonanza casino without spending your money.
Sweet Bonanza Online Casino FAQ
Here are some of the most frequently asked questions about the popular Sweet Bonanza slot:
Why does this slot machine have more than the usual 5 reels?
Here, the developer has opted for a completely different game structure than the one we know from most online games. There are no paylines, and wins occur as soon as at least eight similar symbols appear anywhere on the playing field.
What is the tumble feature in the Sweet Bonanza slot machine?
The Tumble Feature ensures that symbols that have become part of a winning combination disappear from the playing field, and the new symbols that are on top move downwards, or "fall", which comes from the English expression " to tumble".
How many paylines does the Sweet Bonanza slot have?
The Sweet Bonanza game has no paylines as we know them from classic slot machines. Instead, wins are triggered by a minimum number of matching symbols appearing anywhere on the reels.
Can I try the Sweet Bonanza game for free with no risk?
Yes, Sweet Bonanza has a demo version that gives you an insight into how the game works. However, you cannot win real money since only play money is used. If you want to win real money but don't want to take any risks, you can try the game risk-free via free No Deposit bonuses.
Should I register to try Sweet Bonanza for free?
No registration is necessary if the game is used in demo mode. Just click on the slot machine and choose the free version without registration. You can immediately start playing the first free rounds.
How volatile is Sweet Bonanza from Pragmatic Play
The Sweet Bonanza game's volatility is in the medium to high range. It is one of the online casino's most popular positions on the medium volatility scale.
Since the volatility is slightly above average, the excitement factor is also slightly higher – but not so high that the player runs into excessive losses before the first wins occur.
The review was written by Kim Birch
Last updated 13 January 2023.
© KIM BIRCH | All rights reserved 2023